February 06, 2012
F1 MegaPr0n: Lotus, Sauber and Toro Rosso
It's been a busy couple of days in the F1 rollout season! Four teams brought out their 2012 challengers... and only one of them, Sauber, released glamour shots of their car. So for a F1 MegaPr0n, we only have a few workable pictures, and there's only one angle that all three of the teams in this MegaPr0n used. Fortunately, it's the three-quarters angle, which is the most useful for our purposes. Ladies and gentlemen, the first ever F1 mini-MegaPr0n! First up,
Renault
Lotus!

Proof that it's possible to make a good looking platypus nosed F1 car. Of course, this isn't surprising, because the
Renault
Lotus E20 appears to be last year's
Renault
Renault! It appears that the team had to do quite a bit of engineering work to re-route the forward facing exhaust system to meet the tech regs, and as a result development on the rest of the car stagnated. The platypus nose is nothing particularly difficult to accomplish, obviously. However,
Renault
Lotus actually managed to make this one look good... or at least, not as awful as all the others. It's not the hideous ramp that Ferrari has, nor is it the "hills and valley" used by the other teams. Other than those changes, though, it really is the
Renault
Renault R31, all over again. That may not be a horrible thing.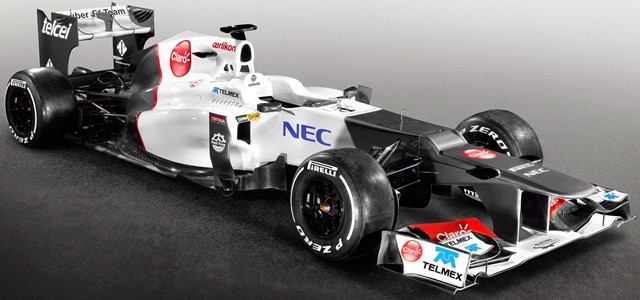 Like
Renault
Lotus, Sauber's C31 seems to be a C30 in 2012 regulations, there are a few changes. Obviously the platypus nose is present... but the hump has a trick involved. There's a thin gap where the nosecone meets the hump, apparently an attempt to disrupt a little bit of the drag that'll undoubtedly be created by the thing. Will it work? Who knows? Other changes are a touch more subtle. The sidepods, which were already cut down last year, have been even smaller and more rounded. The top of the car from the cockpit to the front tires is flat; last year it actually was angled up from the cockpit to the tires. The whole chassis is very clean, almost austere in looks. I rather like it. The biggest change, though, is the addition of Oerlikon as a sponsor. Does this mean there's a 20mm autocannon hidden in the airbox?
Toro Rosso's STR7 has a "hills-and-valley" approach to the platypus, which is as good as any, I suppose. I suppose it's boring to say that it's very similar to last year's STR6, so I won't... though it is. The sidepods are shorter and more deeply cut than those on last year's car, which should remove quite a bit of parasitic drag from the chassis. The airbox has an interesting support arrangement to it now, and under the main intake, there's a second intake, presumably for cooling the KERS unit. Something that isn't particularly visible in the pictures of the cars rolled out to date is the position of the exhausts. Toro Rosso's is set about as far back as they can legally go, and their position seems to be blowing right onto the rear wing. "We can't use a blown diffuser, but nobody said anything about a blown rear wing," seems to be the plan.
In an interview with Toro Rosso's designer, Georgio Ascanelli, I finally heard an explanation for the new nose height. It seems that the maximum height of 550mm is the same as the height of the anti-penetration panels on the sides of the cockpit. It was done to prevent an impalement, which of course we've seen dozens of times in the past couple of years alone (/sarcasm off). A solution looking for a problem...
Now, sharp-eyed readers might have noticed that I said that there had been FOUR rollouts over the past two days, yet I've only shown three. That's because the fourth team was Red Bull, and all they let us see were a couple of cheap renders of the car they'll be defending their title with. With the first offseason practice session beginning on Tuesday, I expect we'll be seeing a little more than that tomorrow, so I'll hit it and Williams then!
Posted by: Wonderduck at 08:56 PM | Comments (2) | Add Comment
Post contains 691 words, total size 5 kb.
1
A couple of cheap renders
and
a dark, low-resolution video produced by hipster marketing robots!
*Sigh* I guess I can wait one more day to hear your thoughts on The Thing From Milton Keynes. It sure is... something.
Posted by: flatdarkmars at February 06, 2012 09:26 PM (I55Es)
2
Pullrod rear suspension seems to dominate.
Posted by: Pete Zaitcev at February 06, 2012 11:15 PM (G2mwb)
Comments are disabled. Post is locked.
17kb generated in CPU 0.0223, elapsed 0.0822 seconds.
46 queries taking 0.0742 seconds, 111 records returned.
Powered by Minx 1.1.6c-pink.