February 22, 2015
Kantai Collection Ep07
For reasons I can't put my finger on, I've been reluctant to do this particular writeup. No, it's nothing having to do with the episode itself: it's very much a
Kantai Collection
episode, with no great surprises or anything. It may have something to do with my right knee feeling like it's packed full of fish sticks and chunks of metal, meaning that spending any amount of time in my computer chair is a little painful... remember, this is the leg that I
bounced off a row of bricks
a few months ago. There's also what feels like an awful case of weather-related malaise. Understand, this winter has been relatively mild, particularly when compared to the continuing nightmare the East Coast has been dealing with. However, Duckford has been grey for pretty much the entire season. It's been grey and snowing, or grey and cold, or grey and cold and snowing, and only rarely has the Burning Orb of Light made itself visible in the sky. I don't think I'm susceptible to
SAD
, at least not like some people, but I'll be darned if the symptoms don't match. Ah well, whatever, you're not here to listen to me kvetch about my aches and pains, you're here to listen to me kvetch about
Kantai Collection
.
Last episode
was the Great Curry Conniption, so what great dealings will Ep07 bring us? An eating contest? Nah, Akagi winning would be too obvious there... ooh! I know! It's the "Mutsu has a light lunch, smiles as she plays with a kitten, then takes an afternoon nap" episode! Yes, please! (sigh) Y'know what? I'm not even gonna guess, lets just jump right in, see where that gets us. Raise anchor, all ahead slow, allons-y!
Ah! It appears that RKO has picked up the production duties of the show, very good. I can't help but worry, however... those guy wires look awfully slack considering their job. The last time I saw guy wires that, the mast in question was being disassembled, a task you literally could not pay me enough to do. Still and all, the antenna at the top must still be working, because the Naval District has received a communique.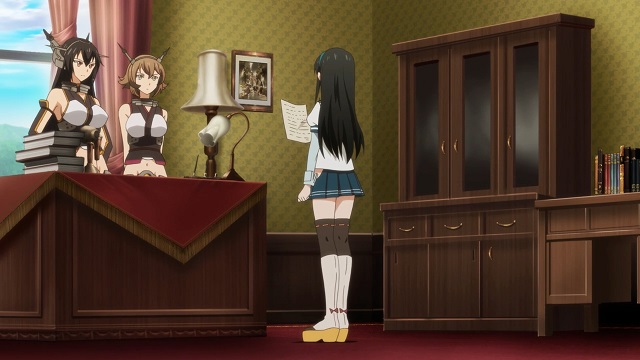 A communique via morse code, no less. Actually, I assume it's actually Wabun code, the Japanese version of morse, but as I understand none of the factors involved, I have no idea if I'm correct or not. For some reason, this lack does not particularly bother me at the moment. Anyway, the message is that Operation MO is approved, and that they are to provide a carrier fleet and a support fleet... and here is where my emergency brakes kicked in, because Operation MO is better known to us here in The States as the Battle of the Coral Sea... we gonna see some stuff go down.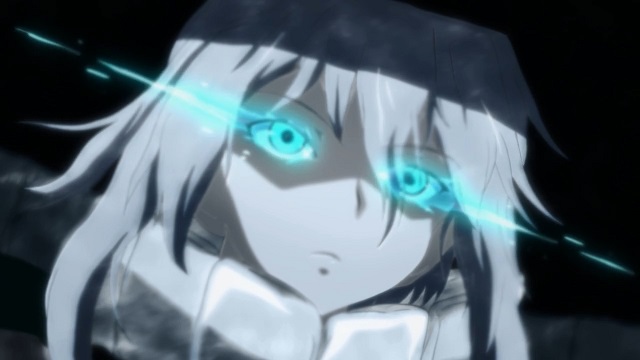 Literally, if lil' miss Abyssal Carrier up there has anything to say about it. I can't help but notice that there's a startling resemblance between the Carrier and The Librarian at times. They both wear hats, the facial structures are the same, they both can do the flashing blue flames of power from the eyes... uncanny. It goes without saying, of course, that I've never seen the two of them together in the same spot...
more...
Posted by: Wonderduck at 12:03 PM | Comments (22) | Add Comment
Post contains 2013 words, total size 15 kb.
February 12, 2015
Kantai Collection Ep06
There are moments when I do these Episodic Writeups when, quite honestly, I don't want to take the time or the effort. Sometimes its because I'm too busy doing other things, sometimes it's because I just don't want to... and sometimes it's because the Production Staff made something that is difficult to recap just by its nature. That's the case here, with the new episode of
Kantai Collection
.
Last week
saw the creation of a new fleet and Fubuki become its unlikely flagship. This week?
(shaking head)
Let's get this over with.
We open with...
Nagato is brooding over some tough choices she's going to have to make in the coming days, which is her unfortunate duty as Secretary of the Fleet. Yeah, yeah, that's nice... more importantly, Mutsu's back and feels sad that her sister refuses to share the burdens. Truly, Mutsu is wonderful. An episode of her reading a novel and sipping tea would be welcome, Production Staff. Just a thought.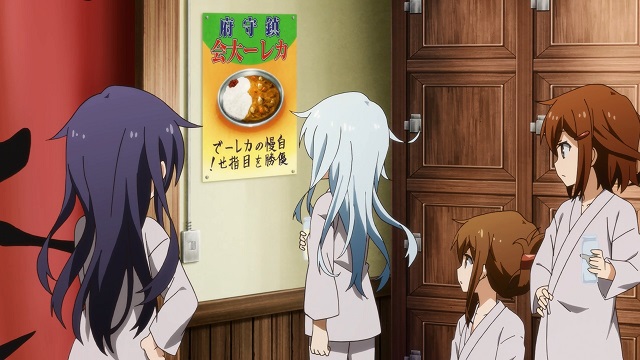 Destroyer Division Six, fresh from a foraging expedition, discovers a sign proclaiming that it's time for the Naval District Curry Contest! The Imperial Japanese Navy, and for that matter its successor the Japanese Maritime Self-Defense Force, had a long-time relationship with curry, dating back all the way to the Anglo-Japanese Alliance in and around 1902. Indeed, every Friday was (and is) curry day in the ships of the fleet. In this case, the contest-winning curry will be the recipe used for the next year. Well, hell, sounds like a plan to the DesDiv6 girls! They quickly decide that they'll enter the contest. It'll be a cinch!
Except that British-born Kongo is going to enter her special spicy English-style curry. Oh yeah, other people are going to enter, aren't they? CURRY FIGHT-O! Look, I like me some curry, but not super-spicy.
We've had this conversation before
. Give me a mild curry, not one that'll punch my teeth in just for eating it.
Definitely don't give me Ashigara's "wild hardcore ultra-spicy curry." Why anybody would want to inflict that sort of damage on themselves is entirely beyond me, but I know they're out there. I also know there are people who don't like lima beans, which to me makes no sense: they're totally innocuous, it's like not liking plain rice. It may not be all that tasty, but it's not going to be offensive. And how can people dislike grilled cheese sandwiches? It boggles the mind, but there are people out there who don't like grilled cheese sandwiches. I'm not talking about grilled cheese with stuff on it, like tomatoes or mushrooms or ham or whatever, I'm talking about a simple, plain grilled cheese sandwich. With a bowl of tomato soup. How can you not like that?
It is a puzzlement
. Don't get me wrong... I digs me some ham & cheese melts like a
LeTourneau L2350 loads trucks
, but not when I'm wanting a grilled cheese sandwich.
more...
Posted by: Wonderduck at 10:08 PM | Comments (5) | Add Comment
Post contains 1416 words, total size 11 kb.
February 06, 2015
Kantai Collection Ep05
Another week, another episode of
Kantai Collection
for our enjoyment! The important question, of course, is how can they top
Ep04's weirdness and Mutsu-service
? Will we get the fabled episode of Mutsu doing nothing in particular? Will there be plot development? Or will there be silly? Come, my friends, let us venture forth into Episode 05!
What? A headquarters shot without Mutsu? Booooooooo! Undoubtedly she's outside, enjoying a pleasant walk along the harborside while kittens and unicorns frolic nearby. Oh, and Nagato has just told Torpedo Squadron Three that they're being dissolved immediately. To the acid baths with you! She goes on to say that they'll be reassigned to other fleets... oh. Wrong type of dissolve. I have to admit, this annoys me as he who doth scribe these writeups to no end... they're breaking The Fellowship! Frodo (F-for-Fubuki), Merry (M-for-Mutsuki) and Pippin (P-for-poi) will be no more. Now I might actually have to be creative, and nobody really wants that, do they? Nuh-uh, not if you're smart you don't.
The hobbits have one last moment together as they pack up their troubles in their old kitbags and smile, smile, smile. Frodo, as is her wont, is doing the whole "they're breaking up the fleet and its all my fault" thing, and Merry is being all "oh for the luvvapete, the Admiral is just reorganizing, you moistened bint," and Pippin is like "whatever, just get me out of here, you never liked me anyway." And she's got a point,
that "poi" thing
got out of hand fast. Still, Fubuki is getting all sad and stuff until it's pointed out that she might be put into the same fleet as Akagi.
I cannot tell you the amount of inappropriate thoughts going through Frodo's head at this moment. Pippin has the right of it, however, when she says that Fubuki's kinda creepy. Lights out finds all three destroyers unable to sleep, and a walk along the wharf in the moonlight ensues. They turn out not to be alone.
The coven complete, they ritually sacrifice a light carrier and use her blood to draw arcane symbols upon the ground. Quiet chanting can be heard for throughout the base, drawing many fleetgirls to their windows in mixed consternation and horror. "Iä Hastur cf'ayak'vulgtmm, vugtlagln vulgtmm. Iä Hastur cf'ayak'vulgtmm, vugtlagln vulgtmm." The blood is mixed with two egg yolks, half a teaspoon of pepper, half a teaspoon of chopped green onion, some flour, then mixed with mashed potatoes. The resulting glob is divided, shaped into circles, dipped in beaten egg and rolled through sifted breadcrumbs, then fried in peanut oil until a golden brown. Makes up to 10 croquettes and summons Hastur, the Unspeakable One, Him Who Is Not To Be Named. As opposed to Fernando Alonso, HWMNBN.
As the moon turns red in the sky, yet reflects normal light, gasps of fear and the slamming shut of windows can be heard. And coming from somewhere unseen, the plaintive voice of a young child can be heard like a dirge: "Hey, mister... can I have my ball back?" As the surface of the water begins to roil and froth, we shall mercifully draw a veil over what occurs next between The Fellowship and Hastur, and skip ahead to...
more...
Posted by: Wonderduck at 11:27 PM | Comments (11) | Add Comment
Post contains 2235 words, total size 16 kb.
47kb generated in CPU 0.07, elapsed 0.2307 seconds.
47 queries taking 0.1795 seconds, 164 records returned.
Powered by Minx 1.1.6c-pink.