October 29, 2008
Ikkitousen Great Guardians OVA 2
Continuing with the quest
to see if they can out-ecchi the
Dragon Destiny
OVAs, the good (if somewhat pervy) folks at
Studio ARMS
have rolled out the second OVA for
Ikkitousen Great Guardians
.
It's a high bar to try and clear... do they succeed where they failed the first time around?
Boy, it's good to be an otaku...

And who is our Sexy Cosplayer this time around?
The living dead girl herself!
Obviously, from here on out, everything should be considered NSFW. Most of it really isn't, but better safe than sorry,
neh
?
more...
Posted by: Wonderduck at 10:41 PM | Comments (2) | Add Comment
Post contains 268 words, total size 4 kb.
October 01, 2008
Ikkitousen Great Guardians OVA 1
So now we come to the most important part of
Ikkitousen Great Guardians
: the obligatory OVAs. The question is, of course, how will they be able to top the OVAs for
Ikkitousen Dragon Destiny
? They didn't quite hit "hentai" with those, but they couldn't come much closer. Will they go completely bugnutty this time? Let's find out!
Why am I thinking "Bergman" right now?

We start with most of the female cast gathered around a table... ooh! Strip poker, maybe? For this series, that'd be different, and sure would seem like it'd hold a lot of promise.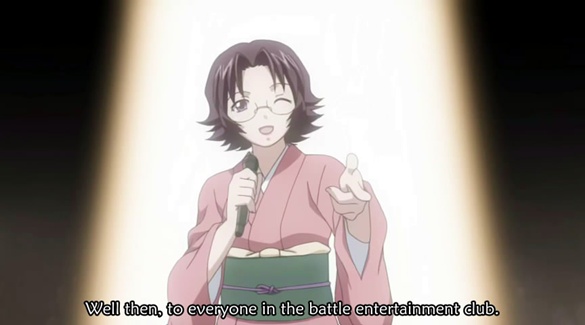 I suspect that I AM going to be "entertained".
Hakufu's mom as MC? This bodes well... or ill, depending on your point of view. But
what
is the "Battle Entertainment Club", and just what the heck does it do?
Why did the ice in my glass just melt?
Oh. Oh my. Better than strip poker.


more...
Posted by: Wonderduck at 10:47 PM | Comments (4) | Add Comment
Post contains 292 words, total size 5 kb.
19kb generated in CPU 0.14, elapsed 0.784 seconds.
46 queries taking 0.6872 seconds, 130 records returned.
Powered by Minx 1.1.6c-pink.