May 28, 2015
The Evangelion Movies: 2.22 You Can (not) Advance, pt 3
Because what's more fun on a weekend than a movie filled with angst-ridden, emotionally stunted, just flat-out damaged kids being forced to save the world while being used by an
O2STK
to actually bring around the end of the world, just in an approved manner? Right, doing a
writeup
of that very movie!
After pt 2
, how could I not want to leap right into pt 3, huh? I mean, other than reasons of sanity, not that that's ever been a concern of mine before. But you know, times these days are hard, and at times like this, one's sanity becomes a precious, precious commodity, one to be treasured and nurtured, not squandered like the virtue of a Lady of the Evening named Trixie in San Diego during Fleet Week. However, I squander my sanity gladly for the entertainment of my readers, the accumulated Pond Scum, a term I use endearingly. You'll note, of course, that it's months after I completed the previous installment... that'll show how much I love you guys. But enough of my self-congratulating maunderings, let's get on with the
Adventures of Nigel
Evangelion
.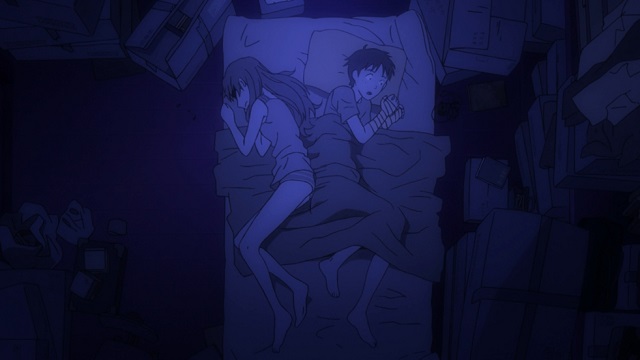 The night after they've killed the most recent Angel, Asuka has another teeny-tiny lil' breakdown. She's used to being alone, but for whatever reason she crawls into bed with Shinji... come to think of it, it's quite possible that that's about as close to being alone as you can get with another human being. Before you start thinking that we're getting red-hot one-on-one Eva pilot action, remember that Asuka is the one person who
hasn't
punched Shinji in the face
. She's perpetrated other violence upon his person, so I guess the suppose their relationship is still up in the air, but without the punch in the face you can't be sure.
Time passes in a normal, relaxed way. People get up, go about their days, come home. Asuka proves to be only slightly better than feral. Shinji doesn't whine much. Teh Rei watches it all with an air of dull surprise. Angelic days indeed (see what I did there?).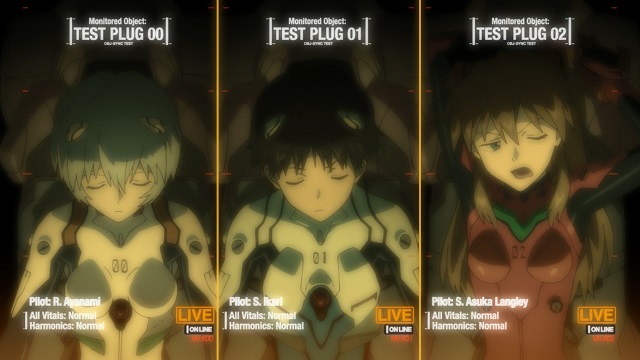 Except for all that Eva simulation training. Oh yeah, that. That sort of thing isn't exactly common. I mean, for these kids it is, but it's not like Fred and Ginger in class 2-2 spend their afternoons stuck in a Entry Plug, surrounded by something that looks a lot like amniotic fluid, controlling giant bio-robots. Don't worry, though... if they
do
, I'm sure there'll be an
Evangelion
movie about them.
more...
Posted by: Wonderduck at 10:15 PM | No Comments | Add Comment
Post contains 1836 words, total size 14 kb.
16kb generated in CPU 0.56, elapsed 0.4215 seconds.
43 queries taking 0.3483 seconds, 121 records returned.
Powered by Minx 1.1.6c-pink.