January 21, 2013
Vividred Operation Ep02
It's time once again for everybody's favorite hyperintelligent duck to shamelessly
give the business
to an innocent, unsuspecting anime. I'll admit some reluctance to use the term "innocent" to describe
Vividred Operation
, as it seems very much like the Production Staff's familiarity with the word is passing at best. Still, that's what makes these things so much fun, right? I suppose an argument can be made that using the word "fun" to describe these episodic writeups may not be appropriate, but that's not for me to say. I just write 'em and let you, my intelligent, good looking, well-dressed readers, make the call. By the way, have I mentioned how great your hair looks? Because it's flat-out
amazing
. How do you get it to do that feathering-and-flip thing? Seriously, I envy you your hair.
We pick up Ep02 pretty much where we left off in
Ep01
, with Akane (left) ascended to Magical Girl status amd Aoi (right) gazing lovingly into her eyes. Just then, Gendo Plushyferret says that the two of them are the only people in the world that can fight the alien invaders, and they've got to prepare for docking. Docking? As in "symmetrical docking"? I've completely changed my mind about this series, I'm all over it now!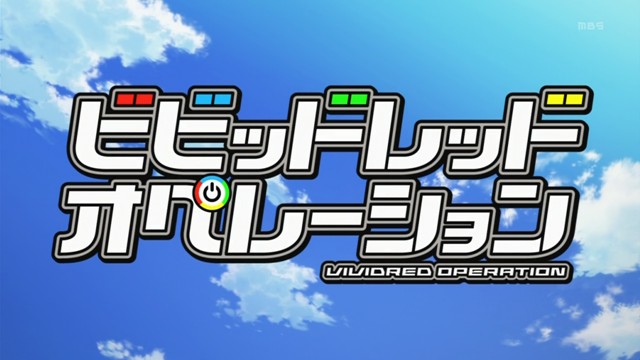 Man,
Vividred Operation
has really moved into the big leagues now: it's got an OP and everything! Too bad I'll never watch it... I actually (almost) never watch a show's OP, simply because of the spoilers that are usually contained therein. That is, if I actually care about the series; if I don't, I'll watch once. Yes, I know there are series where the OP is part of the show (the
ARIA
franchise) or changes every episode (the most recent
HidaSketch
); obviously that's different. But in general, I'd rather be surprised. Okay, now that I've got
that
out of my system, where's my docking?
more...
Posted by: Wonderduck at 10:31 PM | Comments (5) | Add Comment
Post contains 2390 words, total size 19 kb.
January 16, 2013
Vividred Operation Ep01
So there's really only one show that I'm even mildly excited about this season, and that's this one,
Vividred Operation
. As I mentioned in the previous post, nobody has the faintest idea what's going to happen with it: it could be great, it could be stupid, it could be stupidly great! Well, no matter how it shakes down, I'll be doing episodic reviews for it, probably on Saturdays. It airs on Thursday, but there's that whole work thing to think about... I'm not as young as I used to be, alas. I don't have as much energy, as much hair, or as many teeth as I did when I was a kid. So let's take a look at this here show, let's see what we're being given to work with, shall we?
The City of
Townsville!
unknown moniker, and something seems a little out of place in it... like, maybe,
the enormous tower in the center
(thanks for pointing that out, Muppet!) that simply dwarfs everything in the vicinity? Seriously, look at that thing, it's easily five times taller than the tallest structure nearby, and maybe twice as tall as the skyscrapers in the background. In an earthquake-prone country, no less. Can you
imagine
the number of zoning ordinances that had to be eased so it could be constructed? Pilots flying into City must hate the thing with a passion, too. Plus, it's clear that the powers that be are somewhat lax with their security methods. To whit...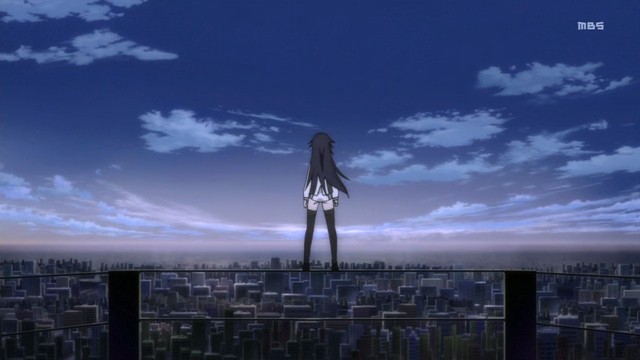 ...there's this young woman, standing on the safety railing on the very top of the tower, watching the sun come up. Completely unbelievable... I mean, there's not a single iPhone or camera in sight, and there's
no way
one of today's callow yoots
wouldn't
be recording this to post on myfaceinatube.com...
with the camera held the wrong way
. Kids these days, I tell you.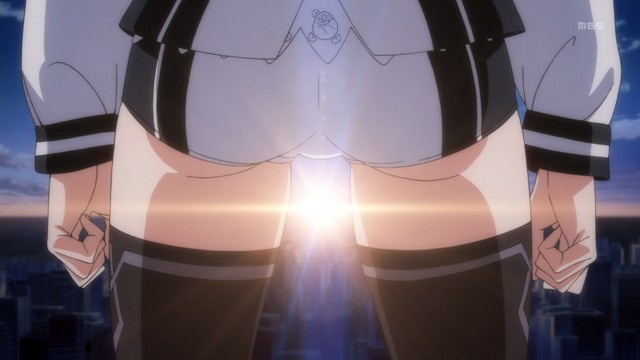 Oh, so it's going to be THAT sort of show, huh? Technically, she
is
wearing pants. Lil' Miss Wallenda up there is, apparently, a member of
O2STK
, and nothing she does while on-screen clarifies her reason for existing.
Yup, it's gonna be a good show for me.
more...
Posted by: Wonderduck at 09:08 PM | Comments (11) | Add Comment
Post contains 2671 words, total size 21 kb.
27kb generated in CPU 0.06, elapsed 0.1932 seconds.
46 queries taking 0.1492 seconds, 140 records returned.
Powered by Minx 1.1.6c-pink.