April 15, 2011
Rio Rainbow Gate! The Lost Reviews: Ep02
(Wonderduck's note: my internet connection went down again, just before I finished this. It was supposed to go up Thursday night... the best laid plans of ducks and men...)
I do
not
believe I'm doing this. I thought I had finished with these things, but somewhere in the back of my mind, there was a little figure in a
shrimp costume
that keep nagging me: "You've left something incomplete." Sure enough, back when
RRG!
first started airing, I reviewed Ep01, made a brief comment for Ep03, then carried on every week from there. But I never did a full writeup for Ep02, and Ep03 deserves one as well, if only because of that's when Rina joins the cast. So sit back, relax, buckle in and strap it down, because I'm going back into hell. I'm going back to Casino Island. I'm going back to...
Do not pray for my immortal soul, friends, for it's already been damned to suffer eternal torment by viewing this show. Just spare a thought for the agonies I am about to endure for your enjoyment, and when you think of me... think well.
more...
Posted by: Wonderduck at 06:38 AM | Comments (5) | Add Comment
Post contains 1816 words, total size 14 kb.
April 03, 2011
Rio Rainbow Gate! ep13
Captive's Log Day 89
: It's been nearly three months since I was last free. Nearly three months since the torture began. Nearly three months since my sanity began to fade. Nearly three months since I was first subjected to the nightmare that is
Rio Rainbow Gate!
. How was I to know what that first viewing would do to me, both short- and long-term? At first I resisted... I knew what the Production Staff was trying to do, and I refused to let them break me. Slowly, however, they weaseled their way under my barriers and I began to...
care
. Care about the show. Care about the characters. Care about the ultimate outcome. It was
Stockholm Syndrome
, a classic case if there ever was one. The bastards nearly had me then. Somehow, I got through it with some shreds of sanity and human decency left. Then I began to hate. I nurtured that hate and rage and anger as a way to get me through whatever they decided to do to me. It worked. I've managed to make it to the end. One last episode to go and then I'm a free man. There's nothing they can do to me that'll make the pain any worse, for I can see the end. I've done it. I'll have survived
Rio Rainbow Gate!
. Come, Production Staff, one last dance... for old time's sake. Then I'll quit you forever.
We pick up mere minutes after the end of Ep12, with the final Gate Battle still in progress. Our Heroine and her sister are locked in a cutthroat game of poker, the first to win fifteen hands is victorious. The winner gets all 13 Gates, becomes only the second Most Valuable Card Dealer ever, and will get to "see the rainbow," whatever that means. The loser? We'd rather not think about that, but it probably involves holographic flying sharks. When we last saw the game, Rina was up two games to zero. The situation has changed somewhat.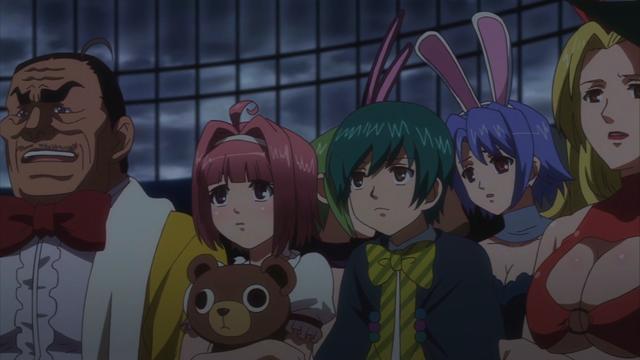 The looks on the faces of the Usual Suspects says it all. Stunned disbelief. Growing despair. A sense of loss, a sense of failure. Depression. Sadness. Hopelessness. In short, the entire
Rio Rainbow Gate!
experience, all in one screenshot. Our Heroine has lost thirteen hands in a row, and as we watch, the fourteenth goes to Rina as well.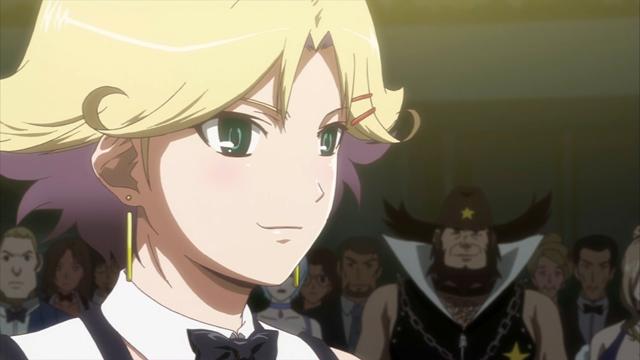 The amount of raw smug coming off of Rina is amazing as she mocks her sister's performance. The culmination of her life's ambition is at hand, her vengeance nearly complete.
And yet, for someone about to be completely embarrassed, Rio seems to be remarkably unconcerned... almost like she knows something nobody else does. In fact, her attitude begins to rankle Rina, who actually gets angry. The Owner yells from the crowd that Rio doesn't need to throw the game to make up for her past transgressions against her sister, that it's all right to win... and Rina goes full psycho, screaming accusations across the table. Rio just smiles and says something to the effect of "it's just the way the cards are falling. Isn't that the way casino games are supposed to work?" The final hand is dealt.
more...
Posted by: Wonderduck at 02:40 AM | Comments (10) | Add Comment
Post contains 2553 words, total size 20 kb.
26kb generated in CPU 0.23, elapsed 0.343 seconds.
46 queries taking 0.2752 seconds, 139 records returned.
Powered by Minx 1.1.6c-pink.