May 05, 2016
"What's On Your MP3 Player, Wonderduck?"... Asked Nobody Ever
While I work on the
KonoSuba
review, I'm going to entertain you somewhat by showing you the "Top Five", such as it is, on my MP3 player. Mind you, these are the songs that get me through the day at work... the hours upon hours of claims... when the Cubs aren't playing. Enjoy, won't you? Or at least pretend that you're interested. Humor me.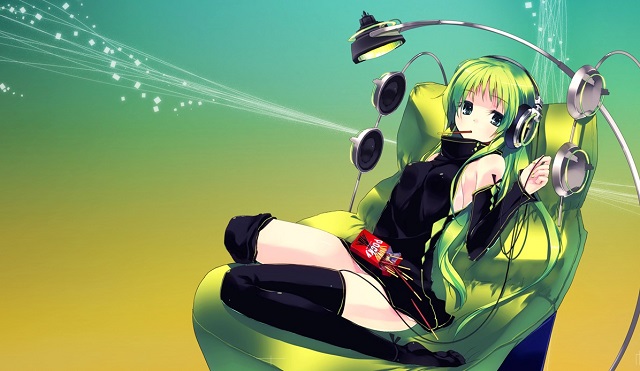 I dare you.
Starcadian - He∧rt
It's got a very '80s-ish vibe, this song does. It's also awfully relaxing... until you listen to the lyrics, particularly the chorus. Then it's just... weird. Which does a great job of distracting my brain while I do work.
Kaliyo - Take What You Can Get
Imagine, if you will, that it is very late indeed on a Saturday night in October a year or two or three ago. Assembled in the Media Room of Pond Central is the
F1 Update!
team, watching the Grand Prix of Japan. As the Legendary Announce Team goes to commercial, Dish (the official satellite provider to The Pond) runs one of their channel promos. As it is, as previously mentioned, very late indeed,
the promo they run is for the Playboy Channel
("we watch it for the articles"). After the F1U! crew picks their collected jaws up off the carpet, one of them makes a note to look up the song. That note disappears into one or another notebook, never to be seen again... until recently. This is that song. It's very very good. The articles, I tell you, the
articles
.
Minoru - 187
A while back,
I posted a funny

World of Warships

video
. While certainly amusing, it should come as no surprise to many of you that I found myself mesmerized by a song clip used a couple of times in it... this very tune, in fact. It's a very clever remix of the legendary blues tune, "
Boom Boom Boom
" by John Lee Hooker. I wonder what exactly he'd've thought of Glitch-Blues...
Babymetal - Karate
Because what death metal was lacking was Japanese schoolgirls. One of my coworkers is a huge metalhead, and after I described Babymetal to her, she completely refused to listen to them. A week or so ago as she was walking by, I held out my headphones and said "you've gotta listen to this." She put them on, and I hit play
on this track
. She was all like "wow, that's great!" until they started singing... I've never seen someone get so confused in my life.
Sabaton - Panzerkampf
A military history lesson in every song! A Finnish metal band with a helluva premise: all their songs are about real-life battles and wars. And it works, mostly.
So that's what I'm currently listening to. Wacky, huh?
Posted by: Wonderduck at 09:18 PM | Comments (4) | Add Comment
Post contains 467 words, total size 4 kb.
1
That Starcadian video, they got every penny's worth out of the thirty,
maybe
forty bucks spent on props and costume and effects.
I like the Kaliyo track. The low-speed chanteuse coffee-house sound has some appeal.
That "Boom Boom Boom" remix is sharply done. Swiftly approved.
Babymetal. Does nothing for me, but I'm delighted to no end that the band exists. Like,
of course
Japan has a gothi-loli death-metal act. OF COURSE.
The Sabaton track is both awesome and hilarious all at once. Like... that's your thing, guys, and what the hell, go for it. Rock out with your history book out.
Posted by: GreyDuck at May 05, 2016 10:57 PM (rKFiU)
2
GD, I'll have you know
the Starcadian video cost $200
!
re: Babymetal: the lead singer, Su-metal, is 18... and she's been part of the band since 2010.
Sabaton actually solved a problem I've been staring at for a month or so...
Posted by: Wonderduck at May 05, 2016 11:36 PM (XQ5ac)
3
I just exposed someone to Babymetal today, using the Gimme Choco vector, and after listing all the things wrong and horrible about it, he clicked on another video. And another. A few minutes later I heard "Wembley?!?", and I knew that a soul had been lost.
Speaking of their ages, I continue to be astonished by the fact that there's a Japanese musical act with three cute young girls that
always
presents them fully dressed and in character. No "bikini DVD in Okinawa", no "promotional photo shoot in gym clothes", nothing. Even their previous activities with the parent group were pretty much all in conservative school uniforms. They're practically over-the-hill for the Japanese cheesecake market now, but the management continues to show restraint. Rather refreshing, actually.
-j
Posted by: J Greely at May 06, 2016 12:37 AM (ZlYZd)
4
Re:Babymetal And of course a niche foreign band is available for free on amazon prime music
Posted by: ReallyBored at May 06, 2016 11:47 AM (MmkR/)
22kb generated in CPU 0.08, elapsed 0.4086 seconds.
48 queries taking 0.3554 seconds, 129 records returned.
Powered by Minx 1.1.6c-pink.