March 28, 2019
Extending Apologies To The Spookliy-Named Group
Well,
Ghost
is much too weird for me to explain them.
That's what I said in the blurb for the Pet Shop Boys' cover in the last post. I'd like to apologize for that, because some few hours has taught me quite a lot about the band from Sweden. You would do well to turn the volume up on this post, by the way.

Everybody knows what a concept album is, right? A bunch of songs devoted to the same thing telling a story as they go... The Who's Tommy, Pink Floyd's The Wall, Joe Jackson's Big World, Alan Parson's Project's Tales of Mystery and Imagination, Styx's Paradise Theatre, all examples of the concept album. Well,

Ghost

takes it one farther: they're a concept band! The concept is, however, that they're a Satanic cult led by their charismatic frontman. Said frontman has until only lately been appearing in skull makeup and church regalia. These days, he wears a Uncanny Valley facemask.

Didn't make the satanism rumors go away, which is probably exactly what

Ghost

wants. The more I think about it, the more I believe them to be more performance art than musical band... though considering their formidable skills, I'd not say that to their faces. These Followers of the Morning Star can friggin' rock.
Yes, that's right, that's a Grammy Award they've got there. They won the 2016 award for Best Metal Performance for their song

Cirice

.
Nowadays the Grammys aren't worth much of a much, but for people of a certain age... ahem... that remember what they used to be, there's still a cachet to owning one. And while that's a helluva music video they've got there,

Ghost

seems to be a better live act. Here's a live version of

Cirice

, for example.

Across the board the band's official videos are... inventive. To the point that sometimes they take away from the actual music... the video for

Rats!

is so goofballish that the song (which isn't one of their best, it must be said) just gets swamped. At other times, the video will actually explain the song (see

Cirice

, for example). Often enough, fortunately, the band'll leave things open to interpretation, forcing you to actually listen.

Square Hammer

appears to be freemasonry, clever since how many people actually KNOW what a Mason is/was anymore?

In a lot of ways, there's nothing new with

Ghost

. They're absolutely metal, taking cues from all over the map:

Kiss

and

Metallica

are references mentioned in interviews (and there's a kickass cover of

Enter Sandman

played in front of the King of Sweden, too... turns out Hetfield's a fan!). They don't seem to be just the usual headbanging heavy riffers... there's a serious amount of songwriting and musical talent here. I'm tempted to say that this is "Metal For The Thinking Man", except they'd probably make fun of me for being pretentious. But come on, read the lyrics to what I think is their best song,

He Is

:

If you didn't know better, this is Christian Rock. At least, it is to start. It sort of heads south (if you know what I mean) along the way to the end. Even then though, you really have to be thinking about what the lyrics are

saying

to catch it. The reference to the story of the burning bush speaking to Moses is really sneaky... when Moses asks for proof that he's truly speaking to God, the reply is "I am who I am." So "he is" is second... or is it third?... person referencing here. Circles within circles.
I find online reaction videos to

Ghost

to be hilarious. Either people love them, or they're confused as hell... that reaction is usually from self-described christians. These guys love the song, but despise the message, except then they don't like the song, but they do, and... and... and... they're right though,

Mere Christianity

is a wonderful book.

Go out, give 'em a listen, you might be surprised. Or you might hate them. Either response is perfectly valid, and I'd understand either one. Or don't think about it and just bang your head vigorously. That works too.

Posted by: Wonderduck at 01:55 AM | Comments (2) | Add Comment
Post contains 696 words, total size 9 kb.
March 23, 2019
Two For GreyDuck, One For Everybody, And One For Nobody
GD, I heard these two and immediately thought of you. It's up to you if you think that's a good thing or not.
Apparently
Covenant
isn't new... I see album dates of 2000, 2001, so on and so forth, so perhaps you're familiar with them already. But some good stuff there.
Oh look, it's a weird cover of a Pet Shop Boys tune. Well,
Ghost
is much too weird for me to explain them, but their original music is very heavy indeed.
I think by definition if you're a member of the Pond Scum, you get some level of enjoyment out of bagpipes. This song has appeared on The Pond before, back in
Saturday Night Tunage V
where it was performed by the Victoria Police Pipe Band as opposed to the Red Hot Chili Pipers. I just realized something, and it terrifies me: in the blurb for the song in SNTV, I mention that I first heard the song "nine years ago." I wrote that in 2011. Eeurgh.
So Formula 1 knocks on the door of the Chemical Brothers and says "we like your stuff. Or, really, our grandkids like your stuff. Do a song for us." And the Chemical Brothers said "we like dogs." The rest, as they say, is history. This is an awful, awful tune. However, as a riff dispenser it's top-notch, and I fully expect to be seeing F1 commercials and broadcasts using snippets from the track as backing music. Other than that? Well, the "Powered by NEEEEUM" on the car made me laugh. If you don't get why, say it out loud while watching a F1 car drive past.
Posted by: Wonderduck at 01:16 AM | Comments (2) | Add Comment
Post contains 284 words, total size 2 kb.
March 17, 2019
Yes, I Know That's The Point, But Still...
Look, I get that this sort of music is supposed to be catchy. I don't know if
Momoland
is an Idol team like AKB40 or whatever, or if they're just a K-Pop act, and I'm not entirely sure I care. What I do care about is that "catchy" doesn't quite go far enough to define "Boom Boom".
Seriously. Weaponized catchy. The followup, "Bbam", isn't quite as good, but hell, that's like saying
Godfather II
isn't as good as
The Godfather
. It's not, but nobody cares because
II
is still pretty damn good.
I hope for their next track they move into less onomatopoeia for explosions as a concept.
Enjoy all this while you wait for the the Australian F1 writeup, won't you?
Posted by: Wonderduck at 03:04 AM | Comments (2) | Add Comment
Post contains 130 words, total size 1 kb.
March 01, 2019
A Question Answered... By Anime!
For most of the nearly four years I've worked at my present job, there has been a constant face in the evenings/night shifts... the head of the cleaning crew. They usually show up around 8pm, empty garbage cans, clean bathrooms, vacuum, that sort of thing, y'know? I've made it a point to smile and nod, or wave, or something, to the guy in charge, because hell, he's cleaning up our mess. Without him, I suspect the office would look like Pond Central before the "condemned" sign went up in no time at all.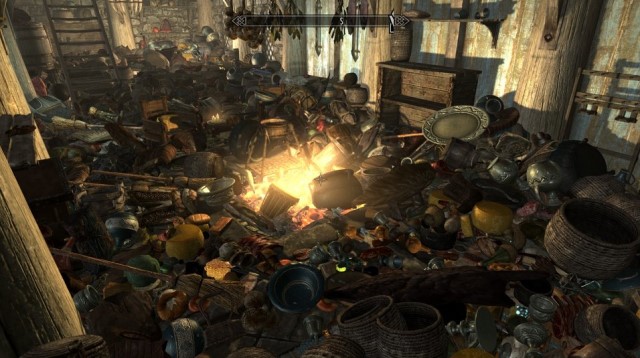 However, in one of those "I don't know X, and by now I'm afraid to ask" moments, I don't know his name. He told me a few years ago, yes, but he has a very thick Slav/Eastern European/Something accent, and it just got by me. I mean, it's not a big deal, it's not like we talk or anything... a nod, a wave, that's about it. And, to be honest, I'm just about the only person there who does even that much. There's always a few people in a business setting you don't want to piss off: the office manager, the head of the cafeteria, and the head of housekeeping all leap to mind... Anyway. Tonight. It is 8pm, and I've been the only person in the entire building since about 6pm... I had a couple of hours to make up. Anyway, because I was sick and tired of headphones, I had hooked up my mp3 player to a couple of cheap external speakers and was rocking out whilst doing claims. Mr Head Of Housekeeping was a couple rows over, using a push-brush to clean up a spill before he brought out the real vacuum, and something wonderful happened.
He started singing along. "It was a song my grandfather sang." I'm still not entirely sure where he's from originally, but he knows
Katushya
... and his first name is Alexander. I'm not sure how I didn't get that the first time around. What the hell, let's do another Russian song!
I first heard this maybe four or five years ago (edit: SIX!
Saturday Night Tuneage XVIII
, would you believe?), I didn't know what I just heard then, I'm still not sure now, but damn it's fun anyway!
Posted by: Wonderduck at 11:54 PM | Comments (2) | Add Comment
Post contains 384 words, total size 3 kb.
36kb generated in CPU 0.09, elapsed 0.1953 seconds.
48 queries taking 0.159 seconds, 141 records returned.
Powered by Minx 1.1.6c-pink.