March 12, 2018
I Will Never Understand My Brain
Saturday night, somewhere around midnight. I'm listening to a playlist I found somewhere, apparently just random music when a song pops up:
Don't Fear The Reaper
by Blue Oyster Cult. Yes, yes, the "more cowbell" song, ha ha very clever skit. Every time you listen to the song unironically an angel gets a Stratocaster, so forget you ever saw the skit. Anyway. That sent me on a tour of BOC's catalogue. Classics like
friend Ben's
favorite tune,
Godzilla
, or their tribute to Cthulhu,
The Old Gods Return
, or even
Cities Aflame With Rock And Roll
. It was at that point that I really realized:
They were nerds.
I mean, look at some of their other song titles:
ETI (Extra-Terrestrial Intelligence)
,
Black Blade
,
Flaming Telepaths
,
Veteran of the Psychic Wars
,
Shooting Shark
(which has o
ne of the most '80s music videos
ever),
Shadow Warrior
, and on and on and on. TOTALLY nerds. Which is actually really cool if you think about it... and yet, it feels like they would be wallflowers at the Metal Party, the outcasts who were only there because... well, you had to invite them. Then nobody would miss them when they left to go play D&D in
Sandy
's basement. Considering that... well, I can relate, is all I'm saying.
So I'm sitting here in Pond Central, enjoying a rare jam-out with a band's surprisingly good music list, when a track I haven't heard in
literally
decades comes on. And after the first line or two, it all comes back to me and I'm singing along. What song?
Why I remembered every word to the lyrics of
this
song, I can't even begin to tell you. Truth be told, I'm not entirely sure I
want
to know what childhood trauma burned this into my confused and confusing brain. That it falls into my current vocal range and I actually sounded kinda good singing along just makes it all the weirder.
Oh well. Hey everybody, big shocking news: Wonderduck's a nerd.
Posted by: Wonderduck at 11:25 PM | No Comments | Add Comment
Post contains 338 words, total size 3 kb.
March 01, 2018
Sometimes, Humanity Shows It Still Has Hope
As I was getting dressed for work this morning, or more correctly, dawdling over getting dressed for work this morning, I spied a post over at that Reddit place asking why people like music or songs in languages they do not understand. Now, I've participated in a few threads like this in the past and have a stock answer: "You're wondering
why people like this
?" But as I looked through the thread, two comments leaped out at me. The first was a relative newby asking for music from anime... "I've seen FMA, and that had good music. Is there anything better?" A few moments later, I had posted
God Knows...
, which even if you're tired of the whole Haruhi thing, you've got to admit is a pretty darn good song,
Undine
which is a beautiful song that can still bring me to tears, and my latest OP obsession,
Live for Life
from Ben-To!. I felt smug. Not for any good reason, I just felt like I had dropped a bomb on this rookie's musical world. As it turns out, the responses have been quite positive.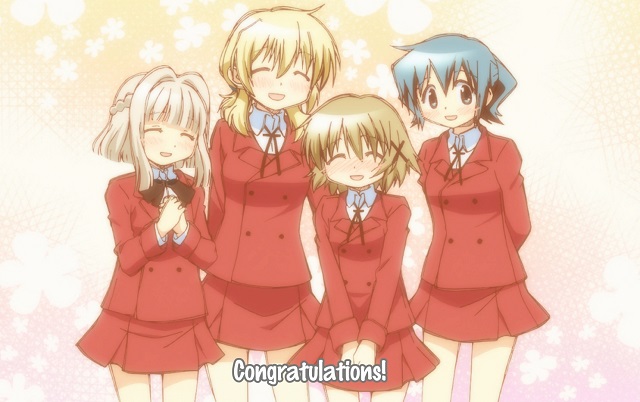 But it was the other comment I saw that was really important. It was from someone who's a big fan of K-Pop. Now I know practically nothing about K-Pop in general;
Gangam Style
and some other tunes I may have stumbled across here or there, but there was one burning question I needed to ask... "Do you know anything about the band Rubber Duckie?" While he didn't, another comment soon appeared: their album is available on eBay Korea, but no English site that they could find had it. Which made me sad. And then came a small miracle: "I found that song on Youtube for you."
It's been a crappy couple of weeks at work. I'm still getting over that bastard of a virus. My left
hip hurts
. I'm rather unhappy with a lot of things. But this?
This made me happy.
Posted by: Wonderduck at 06:33 PM | No Comments | Add Comment
Post contains 334 words, total size 3 kb.
19kb generated in CPU 0.1, elapsed 0.3248 seconds.
43 queries taking 0.2793 seconds, 128 records returned.
Powered by Minx 1.1.6c-pink.