August 16, 2018
I Didn't Realize...
Today, we lost Aretha Franklin, unarguably a music legend no matter what you like to listen to.
I know this is how I was first exposed to her as a young duckling, but what would you expect? I was born in Chicago, Momzerduck was almost killed by
The Blues Brothers
, not the band but the film crew, and everybody hates Illinois Nazis.
But did you know that today in history was also when Elvis Presley died?
Sorry for posting the AMV instead of the original version, either of
the remake
or the
original original
. But I'm still amazed by the work that must have gone into the AMV, particularly because it's
15 years old
.
Also on this date?
Yep. Bela Lugosi. To think that multiple generations know him only from this song... it's a shame, it really is.
Okay, yeah, pretty weak sauce for a post, but whaddya want for nuthin',
a rubber biscuit
?
Posted by: Wonderduck at 10:02 PM | Comments (6) | Add Comment
Post contains 157 words, total size 1 kb.
August 05, 2018
That Made Me Happy!
So I was wandering around the web earlier Saturday, just going where it took me, wound up reading some of the Fluff for Warhammer 40K again. I've discovered a WH40K writer/audiobook reader combination that I'm fascinated by of late (Aaron Dembski-Bowden and Jonathan Keeble and the
Black Legion
series), so I've been spending a lot of time in the 40K universe recently. Fun to visit, but I wouldn't want to live there... and if I did, I expect it'd be a very short life with a very violent end. That's just the way things are there.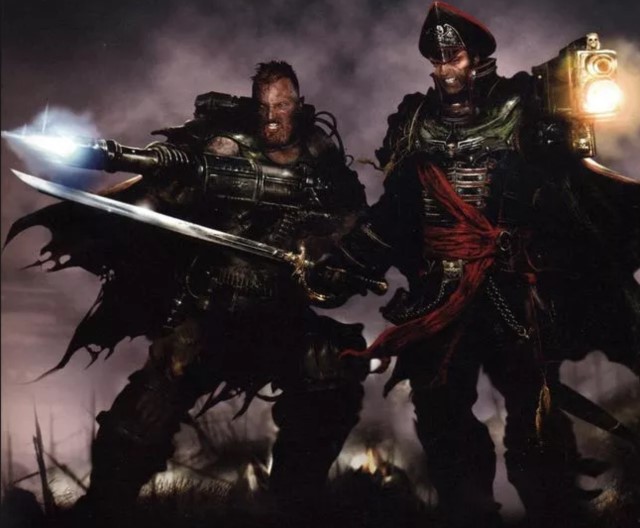 Remember, these are the good guys.
Anyway, after reading more than I really ever wanted to know about the Necrons ("We're gonna need a bigger can opener..."), I somehow found myself reading about spaceflight, which took me to yootoob for some fun times watching
booster-cam footage
. While doing that, I realized I had never seen good footage of a real "Korolev's Cross", just
KSP-based
versions. So I went looking, and discovered something I didn't know existed.
As it turns out,
Korolev
is the B-side of a remix disc of
Sputnik
by Public Service Broadcasting. Clearly it belongs on their album "The Race For Space", but it's not on mine.
What a great thing to discover on a day off: a new PSB song!
Posted by: Wonderduck at 03:26 AM | Comments (1) | Add Comment
Post contains 223 words, total size 2 kb.
20kb generated in CPU 0.1, elapsed 0.4988 seconds.
46 queries taking 0.4332 seconds, 136 records returned.
Powered by Minx 1.1.6c-pink.