November 22, 2012
Thanksgiving 2012
Clearly inspired by friend GreyDuck's

Quacked Panes

.
Posted by: Wonderduck at 08:35 AM | Comments (1) | Add Comment
Post contains 9 words, total size 1 kb.
November 01, 2012
The PSA: Odds And Ends
This is my version of a DVD's director's commentary, just some jokes and pictures that disappeared in the making of the Halloween PSA, including an Epilogue! But first...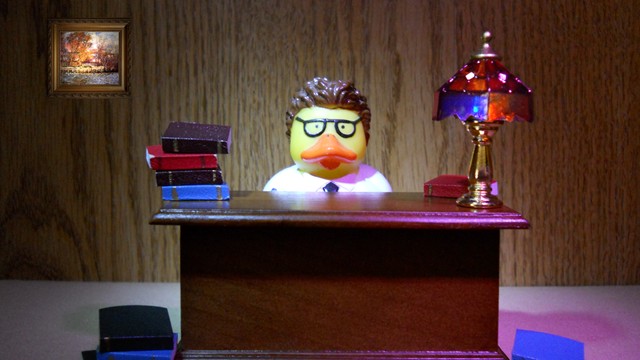 This is my favorite picture from the entire thing. The desk, carpeting, books and lamp are decorations for a dollhouse. Prof Mallard is balanced on a stack of quarters, and the whole shebang is positioned inside one of my bookcases. The faux wood makes for good paneling, no? Unfortunately, the best little joke in the entire PSA disappeared in the final product... his word balloon covered up the painting on the wall (which is photoshopped up there, of course). The painting? Renoir's
The Duck Pond
. That's just one of the little references I threw into the strip. For example, you'd think that the "D.D." in Prof D.D. Mallard's name might stand for "Donald Daffy" or something like that. Actually, it stands for "Delos David," a hat tip to
one of my favorite Heinlein characters
. It's unlikely that anybody else would get that, but if I can't amuse myself, what's the point, right?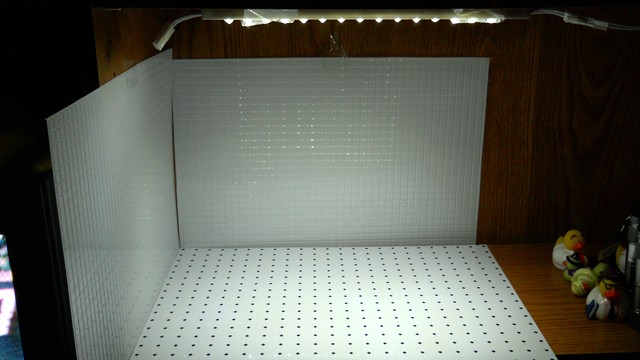 I posted an edited version of this picture almost a year ago
as a teaser to the "photojournalism project"
, but this shows the basic layout of the "lab" photographs. The key to the whole thing was the LED strip I found at Menards a while back. Looked just like the overly bright fluorescent lights you'd see in a white-tiled lab/holodeck/thingy. The floor and walls are, again, for a dollhouse, and it's ridiculous how much that crap costs! That's $25 of thin plastic sheeting right there... still, it looked good on camera, and that's what matters.
The Epilogue is below...
more...
Posted by: Wonderduck at 09:51 PM | Comments (2) | Add Comment
Post contains 392 words, total size 4 kb.
18kb generated in CPU 0.0166, elapsed 0.2437 seconds.
46 queries taking 0.2356 seconds, 134 records returned.
Powered by Minx 1.1.6c-pink.