February 28, 2011
(Cue Ominous Music)
bwahahahahahhahahahahahahaahahaaaaaaa!
Posted by: Wonderduck at 07:29 PM | Comments (7) | Add Comment
Post contains 4 words, total size 1 kb.
February 14, 2011
Valentine's Day 2011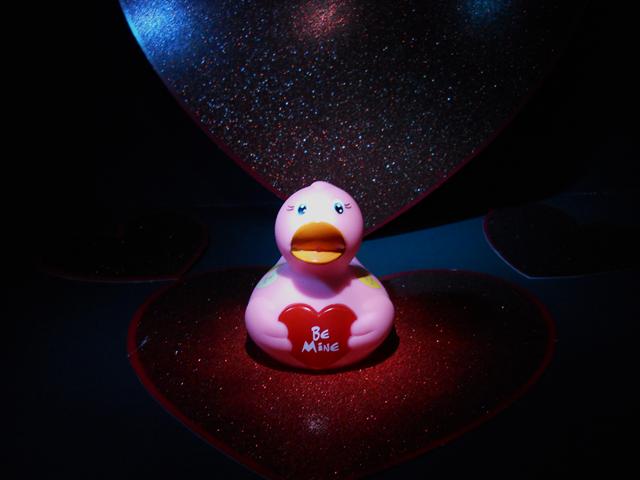 I didn't set out to make a depressing Valentine's Day picture, but that's sure as heck what I ended up with... and I like it like that, I think. Seems appropriate, somehow. Hopefully, some of you out there are having a good VD, and those of you who aren't... well, settle back, watch some anime, and curse Hallmark for creating such a stupid holiday in the first place.
Bastiches, all of 'em.
UPDATE
: As soon as I hit "post", I asked myself what would be a good anti-Valentine's Day anime to watch? The first thing that leaped to mind was
High School of the Dead
... what's yours?
UPDATED UPDATE
: Leave it to friend Greyduck to nail it with his most recent
Quacked Panes
.
Posted by: Wonderduck at 07:20 PM | Comments (5) | Add Comment
Post contains 126 words, total size 1 kb.
February 03, 2011
Great Moments In Odd Snow Formations
I woke up this morning, and this is what I saw out on my balcony.
I have no idea what combination of wind, sun and cold conspired to make this happen, but it pleased me to no end.
UPDATE:
The tiniest duck, closeup, cropped from the original picture. He's 3/4" long x 1/2" tall. I didn't dare put anything bigger on the snow formation, in fear of hastening the impending collapse... though it hasn't fallen down yet.
In case you're wondering, Duck U is still closed. According to an e-mail sent last night by Matt the Screwdriver, VP of Campus Ops, most of the sidewalks are still covered with snowdrifts six feet deep and the main road through campus is impassable. I can only imagine what the parking lots look like. So... snow day #2!
Posted by: Wonderduck at 11:29 AM | Comments (4) | Add Comment
Post contains 141 words, total size 1 kb.
23kb generated in CPU 0.0132, elapsed 0.0809 seconds.
47 queries taking 0.0726 seconds, 149 records returned.
Powered by Minx 1.1.6c-pink.