September 19, 2010
International Talk Like A Pirate Day 2010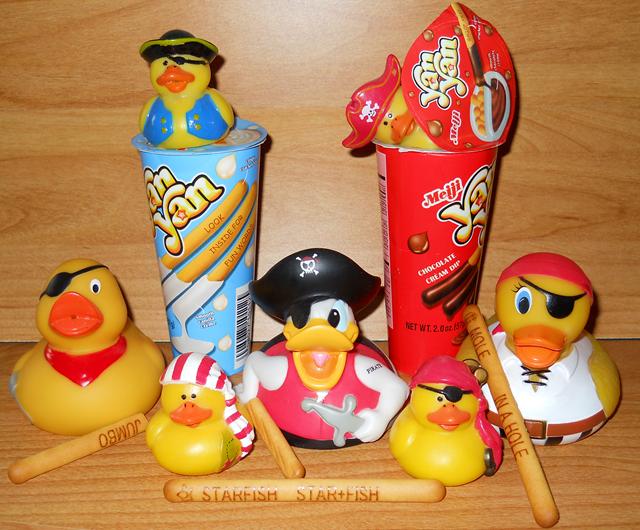 Ahoy, maties! T' Yan-Yan Pirates, sworn enemies o' those scurvy dogs, t'
Pocky Ninjas
, welcome ye t' International Talk Like A Pirate Day! When they be comin' for your Yan-Yan, 'tis best you just run up t' white flag, fer a scruffier band of bilge rats don't exist anywhere on t' high seas! They'll do bad things t' ye! YARRRRRRRRRRRRRRRRR!!!
Okay, they're not scruffy... they're rubber ducks, perhaps the least scruffy thing in the world. And they won't do bad things to you; again, they're rubber ducks. Rubber ducks just don't
do
"bad things." At worst, they'll just sort of walk away with your Meiji sweets. YARRRRR!
But the rivalry between the Pocky Ninjas and the Yan-Yan Pirates is legendary; you don't want to get betwixt the two sides. Then bad things really WILL happen to you... very bad things.
Posted by: Wonderduck at 09:06 AM | Comments (1) | Add Comment
Post contains 147 words, total size 1 kb.
September 06, 2010
Labor Day 2010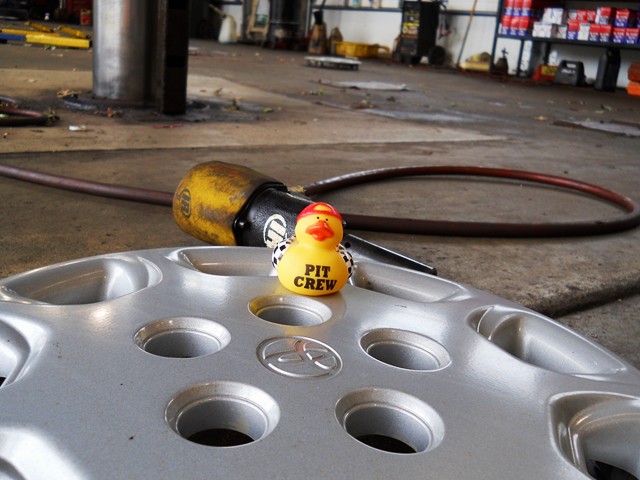 Thanks to the good folks at
Firestone
on Alpine for working on Labor Day. The Duckmobile really needed those two new tires, and the alignment job, and the nearly half-inch of total toe adjustment. It's nice to have a car that isn't fighting me for directional control again, and isn't making odd squealing noises, and has a modicum of traction in the wet!
Happy Labor Day, everbody!
Posted by: Wonderduck at 02:33 PM | No Comments | Add Comment
Post contains 70 words, total size 1 kb.
16kb generated in CPU 0.0104, elapsed 0.088 seconds.
45 queries taking 0.0813 seconds, 132 records returned.
Powered by Minx 1.1.6c-pink.