June 09, 2009
Wow. Just... wow!
Now this is impressive as all heck: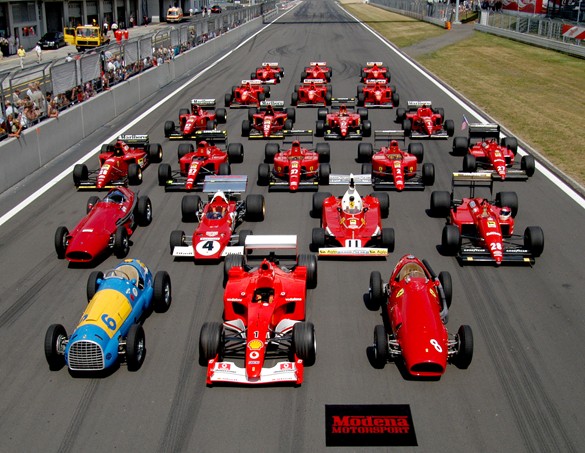 Twenty-frickin'-two Ferrari F1 cars! Taken in 2003 at the 10th Annual Modena Motorsport Ferrari Track Day at the Nurburgring, the front row features the 1949 Ferrari 166, the F2001, and the 500/625.
Good lord, what that lineup must have SOUNDED like rolling onto the grid... and yes, I'm sure they were mostly pushed up there, I don't care, don't spoil the dream, okay?
Motorsports heaven.
And this is coming from a Ferrari hater.
(original 3000x2000 version available here)
Posted by: Wonderduck at 09:32 PM | Comments (4) | Add Comment
Post contains 88 words, total size 1 kb.
1
There is a 2003 body and chassis in the Ferrari store downtown - a beautiful thing to look at, even for a fellow Ferrari hater. It's so small and insubstantial looking, up close.
Posted by: Vaucanson's Duck at June 10, 2009 03:53 PM (XVJDy)
Posted by: Mallory at June 11, 2009 07:27 AM (WJ2qy)
3
Been to Maranello, as part of my Motorsport heaven birthday trip - we started in Tavullia, the home to the #1 (or maybe #46) bike rider - then we spend half a day in the Ferrari museum. Funny thing, they were actually testing out a car that day... quite funny, the whole motorway came to a complete halt, everybody was out of their cars, watching the F1 car practicing
Posted by: Fishbone at June 11, 2009 12:38 PM (TMpIj)
4
Fish, don't take this the wrong way, because I mean it with all the love in my cold, flinty heart, but I hate you.
Posted by: Wonderduck at June 11, 2009 06:14 PM (hlGBx)
Comments are disabled. Post is locked.
22kb generated in CPU 0.0177, elapsed 0.6708 seconds.
47 queries taking 0.6623 seconds, 280 records returned.
Powered by Minx 1.1.6c-pink.