January 12, 2014
A Bridge Too... High?
Some many, many years ago, I spent a few days in
Stillwater, MN
. Ph.Duck's older brother and his family lived there, and I was a guest in their home while Ph.Duck and Momzerduck did... something I don't remember now, perhaps attend a wedding. Something like that. Anyway, being a college kid, I didn't want to just hang out at their (really nice!) house, I wanted to find something fun to do. Hard to do without a car in Stillwater, but not impossible.
After descending the Thousand Stairs Of Doom, I found myself in the Historic Downtown District. To my left was quaint shops, some attractive looking bar & grills, that sort of thing. To my right was the riverside area. I headed to one of the bars... it was a sunny early afternoon and warm, so the dark and air conditioning was welcome. The place, and I will never forget this as long as I live, was called "Cat Ballou's" and had what looked like a life-sized wood-carved statue of Jane Fonda from
the movie of the same name
near the door. I was pretty much the only person in the place that early in the day... I remember the cheeseburger and fries being tasty, and the beer quite pleasant indeed.
After a couple of hours working on my version of The Great American Novel, I headed back out to the riverside area. Yup, it's a river. Oh look, boats. Pretty girl in a sundress. More boats. Still a river. What the
hell
is
that
?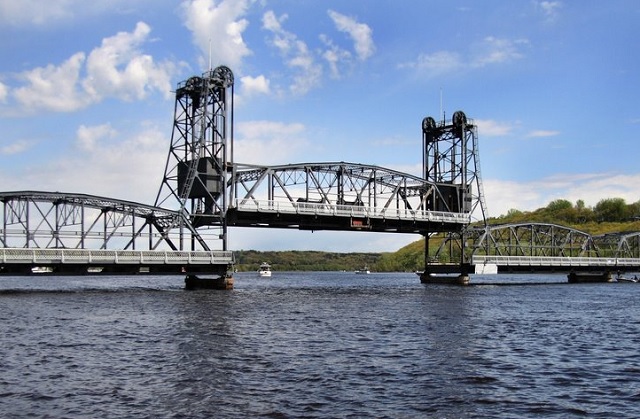 At the time, I had no idea there was such a thing as a lift bridge. Drawbridge, sure. Truss bridge, uh-huh. Suspension, cable-stay, arch and cantilever bridges, you bet. But a
lift bridge
?!?! What sort of magic is this? I was fascinated! As it turns out, it was stuck in the up position at the time, due to all the equipment being original to when it was built and it sometimes does that, but I didn't care at all. How lovely it was to see such a thing.
I'm sure the traffic that had to detour some ridiculous distance to get across the St Croix river disagreed with my assessment, but that's beside the point. It was the neatest thing I saw during that visit to Minnesota. It's still there, though you have to make an appointment with the State to open it for your boat, but it's still there.
Then came the climb back up the Thousand Stairs of Doom. The climb up was a lot worse than going down, and I changed my plans for the next day so to avoid them. I haven't seen the bridge since.
I still think it's magic, and I can't honestly see a reason to build one over a drawbridge, but it's still awfully cool.
Posted by: Wonderduck at 09:13 PM | Comments (5) | Add Comment
Post contains 472 words, total size 3 kb.
1
I think you can build a lift bridge closer to the water than a drawbridge, since you don't need to swing the counterweights. There are actually a lot of lift bridges out here. And they seem to be more common for railroad bridges.
We even have a pivoting bridge on the railroad on Ebey Slough.
Posted by: Mauser at January 12, 2014 11:04 PM (TJ7ih)
2
Portland is distinctive in as much as a major river (the Willamette) runs pretty much right through the middle of it. As a result, it's crossed by a lot of bridges, and they're a wide variety.
The Steel Bridge and the Hawthorne Bridge and Broadway Bridge are cantilever lift bridges, like yours.
The Morrison Bridge and Burnside Bridge are draw bridges.
Downstream there's a swivel bridge, for rail.
The Sellwood Bridge was built high enough so that it doesn't obstruct river traffic, as was the Fremont Bridge and the Marquam Bridge and the Ross Island Bridge and the St. Johns Bridge.
As I said, we have a lot of bridges, and they're all busy all the time.
I agree that Cantilever Lift Bridges are pretty awesome.
Posted by: Steven Den Beste at January 13, 2014 12:15 AM (+rSRq)
3
I used to live in Vancouver WA. IIRC, the bridge on I-5 over the Columbia is also a lift bridge, although for the longest time they've been talking about replacing it. I haven't been down there in over a decade.
Posted by: Mauser at January 13, 2014 05:49 AM (TJ7ih)
4
I'm an idiot. That's not a cantilever bridge, it's a truss bridge.
Posted by: Steven Den Beste at January 13, 2014 12:59 PM (+rSRq)
5
Cool bridge! The counterweights on a drawbridge have to be much, much heavier than the bridge itself, since they are a short lever arm acting on the much longer bridge deck. In contrast, the counterweights on a lift bridge only have to be equal in weight to the span itself. Therefore, all else being equal, a lift bridge is cheaper to build than an equivalent drawbridge. Or equivalently, for the same cost, a lift bridge can be built of heavier, stronger materials. Of course, the downside is that there is obviously a height limitation on ships passing under the lift bridge.
Mauser: Sure, a drawbridge as we typically picture one
does
need someplace for the counterweights to move. But there are clever ways of getting around that. The
Pegasus Bridge
in France is a drawbridge where the counterweight is located above the height of the deck, and the whole structure actually rolls back to raise the bridge. Plus, is has a cool D-Day background story, being one of the first sites targeted for capture by Allied airborne forces.
Posted by: flatdarkmars at January 13, 2014 06:02 PM (0h1CL)
Comments are disabled. Post is locked.
28kb generated in CPU 3.9, elapsed 12.0684 seconds.
47 queries taking 11.9297 seconds, 264 records returned.
Powered by Minx 1.1.6c-pink.