January 25, 2010
Not Quite F1 Pr0n... Yet
Today, Mercedes-Sauber F1 debuted... their paintjob.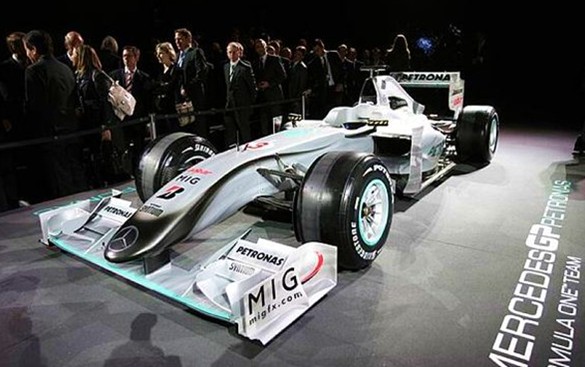 The idea behind the livery is that it's a throwback to the original "silver arrows" of Mercedes. Back in the day-- if the day you're talking about is 1934 or thereabouts-- the Mercedes team was going to join the
Eifelrennen
, but their car was too heavy for the weight restrictions. So the night before, the team sanded all the paint off, leaving just the silver chassis behind.
And a legend was born. Today's paintjob is meant to pay tribute to that one (which really wasn't a paintjob). The car is (obviously) silver, but has part of it "sanded off", revealing the black carbon fiber underneath (not really, it's just paint, but run with it, okay?). The greenish-blue on the leading edges of the nose and other places is the color of Petronas, the team's major sponsor.
The chassis this paintjob (actually, vinyl decal, but let's go with paintjob) is on isn't the 2010 MGP W01, but last year's Brawn car. We should be seeing the new car later this week, when the first FIA practice session begins. So stay tuned!
Posted by: Wonderduck at 07:34 PM | Comments (4) | Add Comment
Post contains 191 words, total size 1 kb.
Posted by: Mallory at January 25, 2010 07:42 PM (WJ2qy)
Posted by: Steven Den Beste at January 25, 2010 08:28 PM (+rSRq)
Posted by: Wonderduck at January 25, 2010 09:08 PM (Cpxcy)
Posted by: Pete Zaitcev at January 25, 2010 11:37 PM (/ppBw)
Comments are disabled. Post is locked.
22kb generated in CPU 0.03, elapsed 0.1876 seconds.
47 queries taking 0.1627 seconds, 267 records returned.
Powered by Minx 1.1.6c-pink.