June 19, 2013
I Can Feel It Coming In The Air... um... Today?
After waking up at four in the morning to catch a 6am bus for a 90 minute trip to O'Hare International Airport, a ridiculously long wait through security (only two metal detectors?
Really
?), and then being stuffed into a pressurized metal tube, I found myself, once again, experiencing the miracle of flight in a manner not intended by either duck nor god (but I repeat myself). As I experienced all the burbles and bobbles of imbalanced air over a major city in a big metal French bird, I glanced out my window... and frantically grabbed for my camera. What disaster caused this reaction? Did the Airbus begin to shed pieces of wing and engine? Did it begin to flooble and flounce through the air as if a software problem caused the flight controls to do bad things for reasons unknowable? Nah, something cooler than that: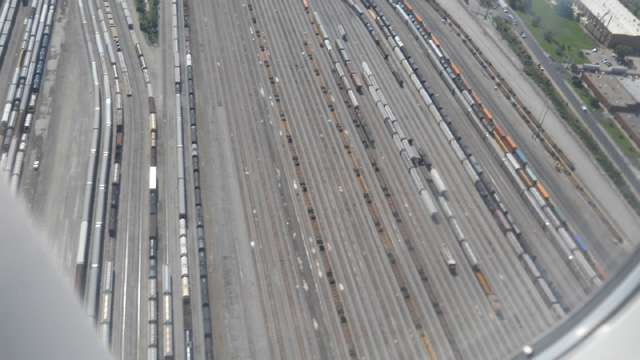 Clicky-poppy for biggy making
Allow me to introduce to you the Belt Railway of Chicago's
Clearing Yard
. 250 miles of track in a five mile area, it's one of the largest such places in the world. I didn't see anything moving, but I also have no idea how high we were at the time, either. Couldn't have been very high, though... it's on the flightpath out of O'Hare after all, and not all that far, either.
Railfanning from a jet plane... welcome to the 21st Century!
Posted by: Wonderduck at 07:58 PM | Comments (3) | Add Comment
Post contains 241 words, total size 2 kb.
1
You rode in a ScareBus? I feel so sorry for you.
Posted by: Mauser at June 20, 2013 02:54 AM (cZPoz)
2
I'm flying back in a Boeing product, so I'll be sure to compare.
Posted by: Wonderduck at June 20, 2013 04:49 PM (Qb1gj)
3
I hope someday you get to ride in one of mine.
(Come to think of it I hope that I get to as well).
Posted by: Mauser at June 21, 2013 03:58 AM (cZPoz)
Comments are disabled. Post is locked.
22kb generated in CPU 0.22, elapsed 0.4649 seconds.
47 queries taking 0.4055 seconds, 261 records returned.
Powered by Minx 1.1.6c-pink.