January 28, 2014
F1 MegaPr0n: Caterham CT05, Williams FW36, Red Bull RB10, Force India VJM07, Mercedes W05
It's the first day of pre-season testing for the F1 Circus, and while it was a bust as far as on-track action went (nine cars, something around 80 laps total run), it was a huge success as far as getting cars in front of cameras! Ladies and Gentlemen, THIS is
your
F1 MegaPr0n for 2014!
Lots of pictures, so click "more" to get started!
RED BULL RB10
It's only the most eagerly awaited of the new challengers... and the one with the most pressure upon it. After all, Red Bull has won the last four championships on the trot! So let's see what the rest of the field gets to try to knock down a peg, shall we?
Another car design, another nose style, and let's be honest: it's pretty darn good-looking. Certainly the least offensive of the proboscis-style noses, at least, though Ferrari's solution is probably the one I dislike the least. Another graceful arc to the tip of the nose, not unlike the Toro Rosso design, though without the Durante schnozzola.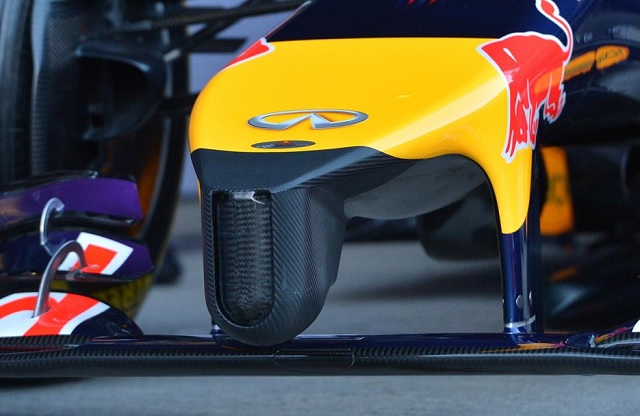 Close-up of the RB10's nose. I suspect that setback is to allow cooling air to flow back into the cockpit, but considering this is Red Bull we're talking about, it probably creates an area of negative coanda efficients subjective to forward velocity, adding yadda yadda yadda. Or it's to cool the driver, one of the two.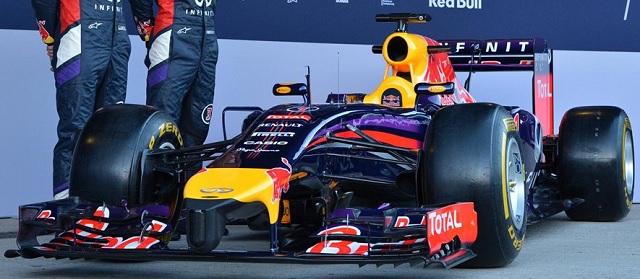 As with all the others, the sidepods are relatively simple. No center pillar for the rear wing, either. Looks like a tidy little design, it'll probably be 22 kph faster than everybody else, and ruin the season for everybody right off the bat. Moving on...
MERCEDES W05
Everybody expected Mercedes to make a huge jump last season, and they surely did. Three wins and finishing second in the constructor's championship certainly sounds good... until you realize that Seb Vettel had more points singlehandedly than Mercedes did as a team. Yay? Let's take a look at their 2014 challenger!
So a Ferrari-style nose, very nice. Interesting call-back to Honda designs, what with the handlebars on the nosecone (note: it's a camera position). I know the cameras are supposed to be downforce-neutral, but I wonder if Mercedes thinks they might get an extra erg or two out of 'em.
May not be the best idea, though, as Lewis Hamilton had a wreck today during his first laps when the front wing failed. Sure, probably not caused by that extra erg or two, but who knows? Actually, those handlebars detract from a very nice looking design, very clean and elegant. Of course, "clean" usually also means "low drag", which means "go fast". We'll see, won't we?
WILLIAMS FW36
Wow, that was a bad season. One of the legendary teams in motorsports, and they didn't earn a point until the 10th race of the season. They've
got
to do better this year, right?
I've said it before, I'll say it again: I love their testing livery, and wish they'd use it during the season. Ah well, so it goes. It looks to me like the engine covering (south of the "E") is more rounded than the other teams', more bulbous.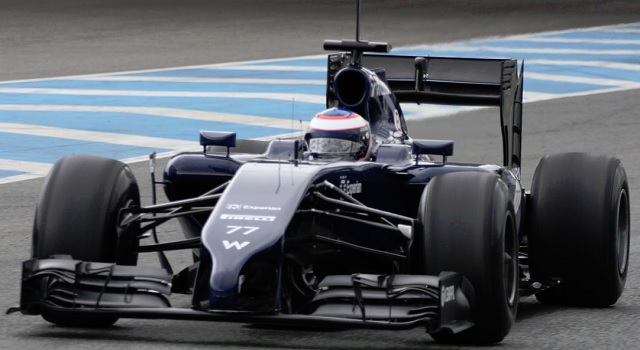 And yet ANOTHER nose design, though it's close to the Toro Rosso style. Almost slab-sided sidepods, no center pillar on the rear wing. I dunno what else to take away from the thing yet... I have a feeling it's going to be a long season for the team, though perhaps the switch to Mercedes engines will pay dividends right off the bat.
FORCE INDIA VJM07
It looked promising for Vijay Mallya's squad at the beginning of the season. They were outscoring McLaren, and seemed to have made the step up to the high-end of the midpack. Then Pirelli changed the tire designs, and the season went away. They've become stuck in F1 Hell, seemingly unable to get better and perilously close to rolling over and dying. So what's their 2014 steed look like?
Well, they've changed their livery, adding an evil black stripe to the paintjob. Ooooh, intimidating, particularly with that... thing... sticking out in front. Similar to the Toro Rosso design... y'know, I've got cooking pots with similar handles. Practically no undercut on the sidepods, either.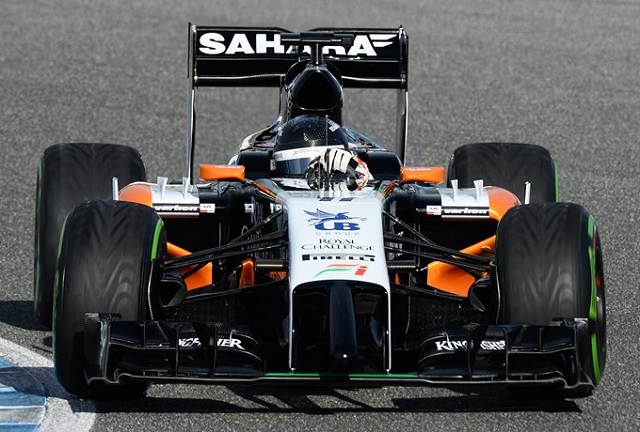 At least the black color makes the nose disappear, kinda. The sidepod intakes seem large-ish, though that might be just an optical illusion. I'm prepared to give them the benefit of the doubt, but I have a feeling that we're still looking at F1 Hell for another season. Pity, I'd like to see them do well.
CATERHAM CT05
You know there's something wrong when your team owner (Tony Fernandes) comes right out and says if the team doesn't improve and quickly, he's quitting the sport. No pressure, everybody, no pressure! So what did Mark Smith, chassis designer for the team, come up with for 2014?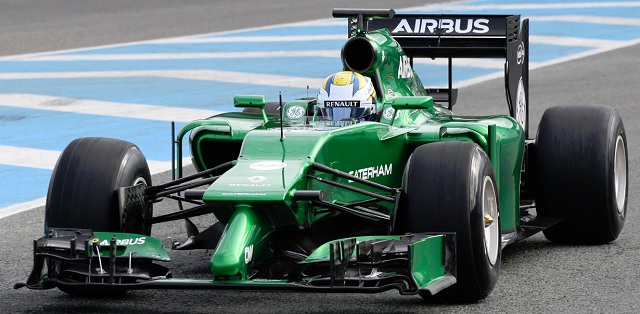 What. The. Fsck? Even Team Lotus' nose (not officially debuted yet) isn't as confusing as this one. The team says the back-angled...
thing
... the snout attaches to will guide airflow back under the chassis, but, and I am not an aerodynamicist, the amount of drag it'll produce must be epic! It's also a shot-trap, so if a passing tank fires a round at it, it'll just direct the projectile into the chassis.
Then we've got the same step in the nose that they had last year. If Caterham came out intending to have the ugliest car in the paddock, well, mission accomplished, and that's saying something. I don't even know what to say about it... they can't be planning to run that nose during the season, can they?
All of this makes me think that the car that was reviled as ugly as sin was just ahead of it's time. It just took ten years, is all! I leave you with the Williams FW26, aka "Walrus Nose"!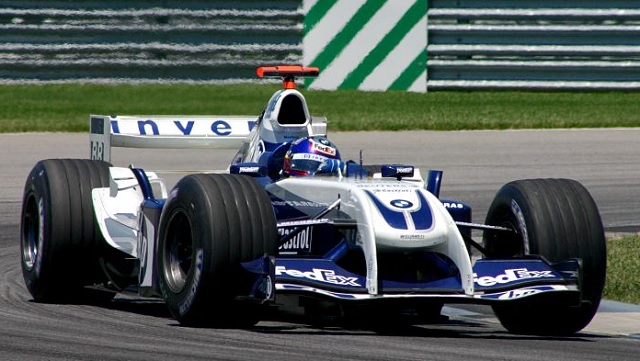 Posted by: Wonderduck at 10:08 PM | Comments (4) | Add Comment
Post contains 988 words, total size 7 kb.
1
The Caterham design team have to be out of their minds. That thing is going to cause mucho turbulence, and turbulence is a bad thing.
Is that Williams car this season or a historical reference?
Posted by: Steven Den Beste at January 28, 2014 11:31 PM (+rSRq)
2
I'd forgotten the FW26. I seem to remember they only raced it a few times, then put a normal nose back on the car?
Posted by: David at January 29, 2014 12:11 AM (da+4f)
3
I guess I can tell that's not modern; the tail is different.
Posted by: Steven Den Beste at January 29, 2014 01:21 AM (+rSRq)
4
Steven, the FW26 was raced 10 years ago. I found the nose treatment to be remarkably similar to what we're seeing today, is all.
This year's car, the FW36, is also in this post.
Posted by: Wonderduck at January 29, 2014 07:19 AM (UVcMa)
Comments are disabled. Post is locked.
20kb generated in CPU 0.013, elapsed 0.0992 seconds.
46 queries taking 0.0895 seconds, 113 records returned.
Powered by Minx 1.1.6c-pink.