May 25, 2010
F1 on SPEED!: Turkey 2010 and Formula 1 Returns to the USA!
First off, Birdy Ecclestone announced today that the city of Austin, Texas will be hosting the US Grand Prix beginning in 2012. A purpose-built facility will be created for the event, the first time a F1-level track has been built in the US. Good job, Birdy!
Now, onto the current season! F1 makes its way to Istanbul this week, home of the only Hermann Tilke circuit that's worth a darn. Let's take a look at the map.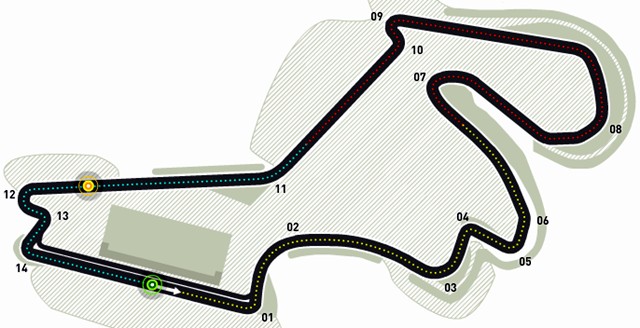 There are three turns on this track that are memorable. Turn 1 has been compared to a junior version of Laguna Seca's famed Corkscrew, though without the radical elevation change (and wouldn't a flock of F1 cars negotiating
that
be something to see?). Turn 11 has jokingly been called "Faux Rouge", as it's a high-speed kink on a hillside, just like the original Eau Rouge at Spa-Francopants.
But it's Turn 8 that elevates this circuit from "okay" to "great." A four-apex corner (which I've called "Quad-8" for years), it's a blisteringly high speed/high risk bend. Get it right in qualifying, and you're on pole. Get it wrong, and you're headed towards the very distant catch fencing... backwards. Nobody's quite made it there yet, but some have given it a mighty effort... I seem to remember Christian Klein a couple of years back coming within a couple of car-lengths. Backwards. Quad-8 is probably Tilke's finest creation.
Of course, Turkey is certainly his best track, too, and it's all due to the land it's on. Unlike Malaysia, China, Bahrain, etc etc, the Istanbul Otodrom (I don't
care
what they call it now) is built on terrain that features hills. Hills mean elevation changes, and that means it actually feels like you're going somewhere. Drivers
love
that, which is one of the reasons that Spa is so popular.
All is not sweetness and light in Turkey, however. Just like the circuit at Shanghai, drivers believe that the track is getting bumpier as it ages, particularly at Quad-8. It's hard enough to make that turn successfully, I can only imagine how grumpy an uneven surface will make the drivers.
Fortunately, we won't HAVE to imagine it, for SPEED will bring us their usual fine coverage beginning with 2nd Practice on Friday, live, from 6am to 740am. Quals follows the next day, from 6am to 7am... at least, that's how the schedule reads. To be safe, set your VCR for 730am.
The 2010 Grand Prix of Turkey comes our way LIVE on Sunday, from 630am to 9am, with a replay on Tuesday from 11am to 130pm. Hopefully my VCR woes will be gone by then, otherwise it'll be another late F1 UPDATE!. However, rest assured that we WILL be here for you!
Posted by: Wonderduck at 06:18 PM | Comments (5) | Add Comment
Post contains 466 words, total size 3 kb.
Posted by: vonKrag at May 25, 2010 06:56 PM (VGXAE)
Posted by: Steven Den Beste at May 25, 2010 08:01 PM (+rSRq)
Posted by: Wonderduck at May 25, 2010 08:29 PM (blkx5)
Posted by: Mallory at May 26, 2010 09:58 AM (WJ2qy)
Posted by: vonKrag at May 26, 2010 09:43 PM (VGXAE)
Comments are disabled. Post is locked.
22kb generated in CPU 0.02, elapsed 0.0844 seconds.
53 queries taking 0.0677 seconds, 222 records returned.
Powered by Minx 1.1.6c-pink.